Global Architect Inc. Recognizes Achievement of Stefano Possamai and the winning team of the NAIOP Sixth Annual, Development Challenge 2017.
Toronto, ON, September 29, 2017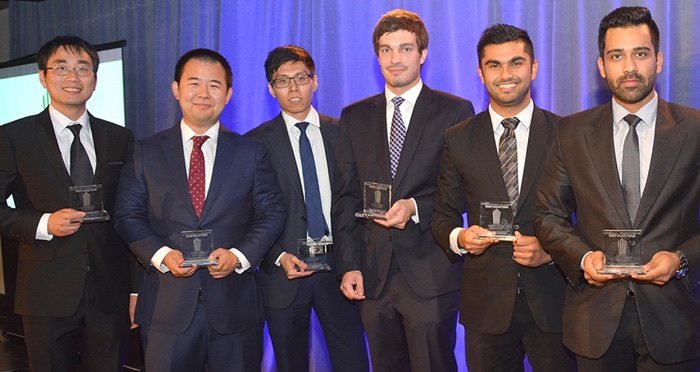 FIRST PLACE TEAM: Tim Zhu, HH Angus; Chong Zhai, BlackRock; Jimmy Wong, 20 Vic Management; Stefano Possamai, HH Angus; Dhruv Soni, HH Angus and Nikhil Dewan, HH Angus.
I know, he's my son and I am proud of him, but today I can't help but share with you my pride on Stefano's accomplishment and first place team win.
Ron Possamai, Principal Global Architect Inc.
NAIOP Greater Toronto believes this annual Development Challenge promotes and encourages its mission and allows those in the Developing Leaders group to demonstrate their talents and skills to senior industry members through written and live oral presentations.
During the summer, professionals 35 years of age or under from all industry disciplines, as well as GTA-based university students, formed small diverse teams to create development proposals for a waterfront site 369 Lakeshore BLVD. East in Toronto.
On Awards Night, September 26th, at Arcadian Loft in Toronto, live presentations were made by three finalist teams. The Awards Night panel of judges then selected the first place team based on objective criteria provided at the outset of the competition, plus the depth and quality of its live presentation.
Congratulations to the team – job well done.
Global Architect Inc., a Toronto based boutique architectural firm creating sustainable, efficient and inspired buildings across North America and beyond.
Architects who understand every project starts with communication and understanding. Let's start our conversation today.
Global Architect Inc., 6 Leswyn Road, Toronto ON M6A 1K2
# # #
If you would like more information about this topic, please contact Global Architect Inc. at (416)-256-4440 or email at info@globalarchitect.ca.